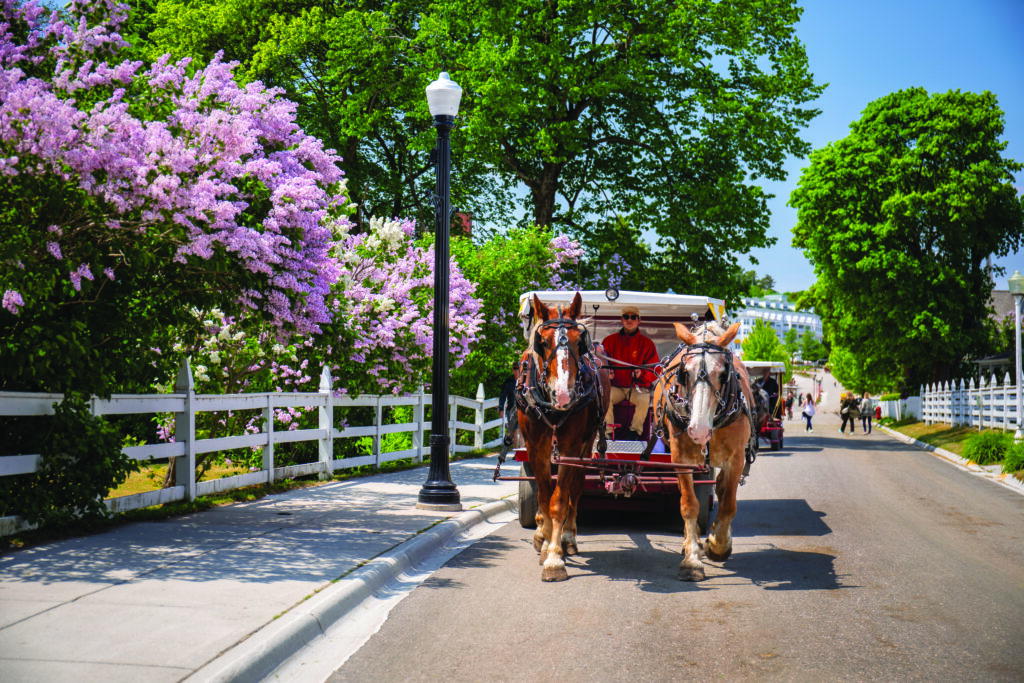 Take a trip back in time (and to cooler weather) at Mackinac Island
By Terry Troy
If you're one of those folks who enjoys moderate weather rather than sultry heat and humidity of Greater Cincinnati, there's a great vacation option and it's just a one-day road trip away. This destination will not only take you to a whole other world, but also back in time. Mackinac Island (pronounced mack-in-awe) is just eight and a half hours away by car and ferry.
"Sometimes, people just want to escape the oppressive Midwest heat and humidity," says Tim Hygh, executive director of Mackinac Island Tourism. "I grew up in Indianapolis, so I totally get it.
"Mackinac is worth the drive. It's like being a world away, without going too far. And because we are on an island, you are totally surrounded by water."
Which can be 10 to 20 degrees cooler depending on the season, offering crisp, clean onshore breezes. Mackinac was created some 15,000 years ago, when the nearly 2-mile-thick glacier retreated, leaving us the Great Lakes. Mackinac rose and became a distinctive island because of its high bluffs and deep surrounding waters. It also left numerous unusual rock formations on the island.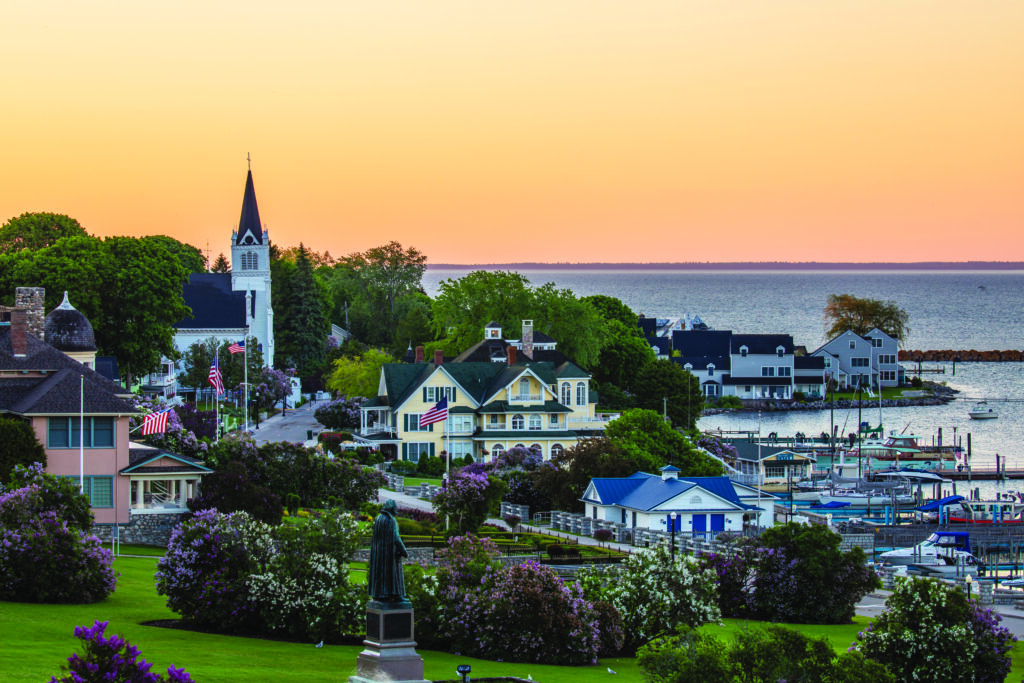 Most people have heard of the Mackinac Island Grand Hotel, the largest of more than 30 hotel and lodging establishments on the island. If you are a fan of the 1980 move, Somewhere in Time, starring Christopher Reeve, Jane Seymour and Christopher Plummer, you'll recognize the hotel's 660-foot front porch almost immediately. The Grand Hotel is where this classic love story was filmed, a movie that has an almost cult-like following of romantics and a fan club that still meets yearly at the hotel in October.
The Grand Hotel's guest registry reads like a "Who's Who" of Hollywood and cultural and political elite. If you visit, keep your eyes peeled, but respect their privacy. Five U.S. presidents have visited, including, Presidents Bush Sr., Clinton, Ford, Kennedy and Truman.
However, its beautiful topography and the Grand Hotel are not the only things that give this island its unique charm.
"In the 1890s, our residents got together and created a motor vehicle ban," says Hygh. "It was a safety decision way back then, but today we call it the greatest marketing decision ever made. One of the main reasons people come here is to experience an island, a world, without cars."
That's right, you'll have to leave your car at the ferry dock (or airport if you choose to fly in), and get around by horse and carriage, bicycle or by foot. Cars, trucks and other vehicles have been banned since 1898. In fact, this year the island is celebrating the 125th anniversary of the automobile ban, which will be celebrated July 22 at Mackinac State Historic Parks.
"The minute you get on Main Street, it's amazing how your blood pressure goes down a few points," says Hygh. "You don't hear any beeping or the sound of tires, just the clip-clop of horses."
And there are a ton of horses on Mackinac. Despite being only 8 miles round, there are over 500 horses that work the island.
In place of engine exhaust, is a very pleasing smell that tickles the palate.
"Google Fudge Capital of the World, and Mackinac Island usually pops up," says Hygh. "People love to walk down the street and smell the exhaust fans that go from the copper kettles to the sidewalk. They also love watching the fudge being made."
As well as tasting it, from local artisans. Some of these kitchens have been making it for over 125 years. Indeed, the fudge industry started on the island in 1887, the year the famous Grand Hotel was built. Henry Murdick, who was hired to make the awnings of the Grand Hotel, had a son named Jerome who opened a shop downtown and started selling candy and fudge using his mother's recipes. Even today, you'll find Murdick's selling candy and fudge in downtown.
But we are really putting dessert before the meal. You'll find numerous culinary options on Mackinac Island.
"You'll see a little bit of everything, from a take-out hot dog stand to an exquisite meal in a fine dining establishment," says Hygh.
And some of those finer dining options do have dress codes. At the Grand Hotel in particular, people love to dress up for dinner, putting their finery on display for all to see.
The Grand Hotel offers several dining establishments, from casual to fine dining. It boasts a kitchen staff of more than 100 who prepare and serve more than 4,000 meals a day. During a recent season, the Grand Hotel used 9,000 pounds of prime rib, 102,500 pounds of potatoes, 5,500 pounds of rack of lamb, 6,400 pounds of bacon, 42,500 pounds of strawberries and 6,000 pounds of pecans, many of which were used in the creation of the Grand Hotel's pecan ball—yet another dessert that deserves a try before you leave the island.
There's also plenty for you to see and do between meals. Bicycling, while seen as an activity at most vacation spots, is more of a means of transportation here. You can bring your own, but there are also plenty of rentals. And because 83% of the island is designated as a state park, you'll find plenty of nice bike trails through wooded parklands.
Being an island, water activities are a natural. In addition to providing ferry service to the island, the Mackinac Island Ferry Company and Shepler's Mackinac Island Ferry and other companies offer cruises and private charters across the Straits of Mackinac, under the impressive and picturesque Mackinac Bridge or around the island. Often, these excursions also have full-service food service, catering, bar service or live music.
Fans of art and culture will not be disappointed. Mackinac is home to numerous galleries and cafes, as the island's stunning scenery offers plenty of inspiration for aspiring artists and photographers. There are also numerous museums. The Mackinac State Parks offer six, many offering historical re-enactments that tap into the island's rich heritage.
Overlooking the bluff on the island's south harbor and the Straits of Mackinac is the historic Fort Mackinac, built in 1780. Inside the Fort you'll find 14 original buildings filled with interactive displays and other educational opportunities.
Like any major tourist destination, there are plenty of spas, recreational opportunities and golf courses. The Grand Hotel's Jewel Golf Course offers nine holes, panoramic vistas and meticulously manicured trees and shrubbery. Located across the street are the Grand Nine and another nine-hole course called the Woods. The Wawashkamo Golf Club is a public course built more than 120 years ago by the famous Scottish golfer Alex Smith.
Regardless of whether you are passionate and experienced, or just a beginner who enjoys knocking the ball around more than competing, the courses at Mackinac will suit your style.
As mentioned earlier, it is about an eight-and-a-half-hour journey from Cincinnati, which includes a 45-minute ferry ride. You can fly in from several regional airports, including Chippewa County International Airport, where Delta offers regional service. There's also service out of Sault Ste. Marie on Michigan's upper peninsula. But the drive and ferry ride are more than worth it. If you want to stop halfway, consider a side trip to Ann Arbor, which is close to the halfway point.