By Patrick McAdams
Need an adrenaline rush to break up the monotony of the summer? Luckily the Great 8 states are full of thrilling and exhilarating theme parks.
Ohio:
• The largest theme park in southern Ohio is the hometown choice for Cincinnatians.
• Tropical Plunge is a new water attraction involving six slides, ranging from twisting to near-vertical drops.
Cedar Point, Sandusky, OH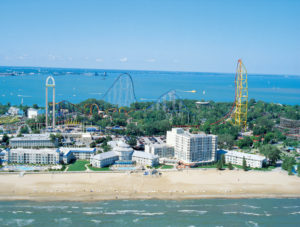 • "The Roller Coaster Capital of the World"
• New for 2016, Valravn – the tallest, fastest and longest dive coaster in the world.
Indiana:
Holiday World, Santa Claus, IN
• Listed as the No.3 waterpark on TripAdvisor's Traveler's Choice Awards 2015.
• Home of The Voyage rollercoaster and Mammoth Water Coaster.
Indiana Beach Boardwalk Resort, Monticello, IN
• Opened in 1926, the Monticello theme park is under new management in Apex Parks Group.
• Go to see the upgraded Ferris wheel, standing at 90 feet tall and equipped with LED lights.
Kentucky:
Ark Encounter, Grant County, KY
• The newest park on the list opened its doors July 7.
• This Christianity-themed park features the most authentic full-size model of Noah's Ark in the world.
Kentucky Kingdom, Louisville, KY
• Named top 10 theme park 2015 by MSN Travel.
• Home of the aquatic area Hurricane Bay and the new coaster, Storm Chaser.
Illinois:
Six Flags Great America, Gurnee, IL
• The park has a new 4D interactive ride, JUSTICE LEAGUE: Battle for Metropolis
• Go and enjoy National Funnel Cake Day July 16!
Michigan:
Michigan's Adventure, Muskegon, MI
• The mitten's largest amusement park has more than 60 rides and attractions.
• Home to one of the best wooden coasters in the world, Shivering Timbers.
Silver Beach Carousel, St. Joseph, MI
• The carousel on the shores of Lake Michigan has 48 unique rideable designs.
• Stay for the Curious Kids' Discovery Zone for children and teens to engage with exhibits and a climbing wall.
New York:
Coney Island, Brooklyn, NY
• The granddaddy of American amusement parks is still one of the best attractions on the east coast.
• Eat a Nathan's hot dog, watch Friday night fireworks and enjoy some of the classic activities of Coney Island.
Enchanted Forest Water Safari, Old Forge, NY
• Enchanted Forest is New York's largest water theme park, with more than 50 rides and attractions.
• Enjoy the amusement park, arcade and water rides after upgrading your stay to the cabana rental package.
Pennsylvania: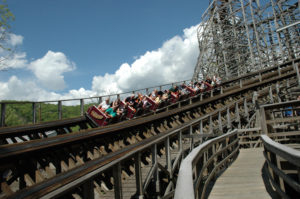 Knoebels Amusement Resort, Elysburg, PA
• Known as America's largest free-admission amusement park.
• Support a family-owned and operated park with rides on its legendary coasters, Phoenix and Twister.
• You'll find more than just chocolate in Pennsylvania's largest amusement park
• Visit its website to follow the clues in unveiling the new thrill ride.
West Virginia:
Camden Park, Huntington, WV
• Camden Park has more than 30 rides and attractions, including a wooden coaster, log flume and train.
• Experience the live concert series throughout July!