By Mary Casey-Sturk
Couples are busier than ever these days, so it's often a challenge to find time together and nearly impossible to plan a romantic escape! Here are five options for a little romance, with little notice.
New York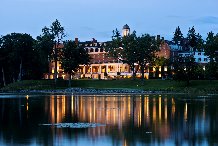 Cooperstown, in the rolling hills of central New York, is best known for being the home of the National Baseball Hall of Fame and Museum, but it's also a charming town on the edge of the beautiful Otsego Lake, with many places to dine, shop and unwind. Wineries and breweries are in abundance. You also might opt to follow the Cooperstown Beverage Trail and savor samples from places in the area, including Cooperstown Distillery, Bear Pond Winery and Fly Creek Cider Mill. At the Fly Creek Cider Mill, you can sample over 40 specialty food items, including fudge, cheese, salsa, apple wines and cider. thisiscooperstown.com
The 1909 Otesaga Resort Hotel harkens back to a more genteel time, but has all the luxury amenities you need for a modern romantic getaway. The Resort features a variety of rooms and suite options with luxurious linens, robes and signature bath product. With views of Otsego Lake, tennis, golf and boating, you certainly won't run out of things to do outside. There are also several dining options and romance packages available—the Resort is a popular for weddings and honeymooners—so you won't run out of things to do inside either. otesaga.com
Michigan
Dearborn, Mich., is perhaps best known as being home to the Henry Ford Museum and its collection of historical artifacts, cars, planes, trains and other memorabilia, and the adjacent Greenfield Village is packed with historic buildings, shops and dining experiences. Here you can cozy up in a horse-drawn Omnibus (or even a Ford Model T), tour the Village and put a little romance in your engine. thehenryford.org.
The nearby Dearborn Inn is a beautiful, historic, Georgian-style hotel built in 1931 as an airport for Henry Ford. It features an array of accommodations, including the Main Inn, two Colonial lodges and five Colonial guest homes curated by Ford, including those of Patrick Henry, Walt Whitman and Edgar Allen Poe. Providing both luxury and romance on 23 landscaped acres, the Inn is an urban oasis and a federal historic landmark. Packed with American charm and modern conveniences (including two eateries and a pool), it's like living in history. The Inn offers several romance. marriott.com
"Dearborn offers a romantic getaway with a historic twist. From the Dearborn Inn to Greenfield Village, couples can get a little lesson in history while enjoying a romantic night out," says Deanna Majchrzak of the Detroit Metro Convention & Visitors Bureau.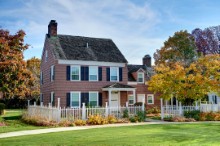 Other places to visit in Dearborn include the Ford Rouge Factory Tour (tickets and transportation available at the Henry Ford Museum), where you'll learn more about the history of Ford and automobiles, as well as get an actual close-up look at Ford F-150 trucks being made. The Arab American National Museum is a Smithsonian-affiliated museum and the first and only one in the United States dedicated to Arab American history and culture. Take an intimate look at the lives, challenges and achievements of Arab Americans via a series of exhibitions and interactive displays.
Illinois
The Second City proves to be tops in romance with a stay at The Guesthouse Hotel (named one of Chicago's Best New Hotels of 2014 by Chicago Magazine). Located in the Andersonville neighborhood of Chicago—an old Swedish area and very hip these days—you'll find the sweetest of suites with spa-like bathrooms, gourmet kitchens and outdoor spaces. You might even want to spring for a penthouse with a roof deck featuring sweeping views of the Chicago skyline. theguesthousehotel.com
General Manager Rick Verkler has these suggestions for enhancing your stay: "Dinner for two in your suite. [It's a] romantic dinner for two provided by one of our delicious neighborhood restaurant partners. Guests will be given the choice from a special menu designed exclusively for The Guesthouse Hotel." Also available is a private wine tasting. Rick says, "Guests will enjoy a private tasting featuring wines from Australia's Mollydooker vineyard. Our owners are Mollydooker Ambassadors and delight in sharing these bold and beautiful award-winning wines. This will definitely add a memorable touch for a romantic evening!"
Nearby restaurants include the Bongo Room with its fresh, seasonal menu and Ora Sushi (make sure to ask for the chef's choice). Shops such as Notice (accessories and clothes), and Scout Chicago, with its trendy selection of industrial home items, deliver one-of-a-kind shopping choices. The tree lined streets and historic buildings that compose this neighborhood make you feel instantly at home. andersonville.org
Chicago is well known for its numerous museums, parks and, of course, Lake Michigan. Taking a cruise on Lake Michigan affords a romantic view of the city and a chance to cuddle together and ward off those notorious winds. The recently renovated Odyssey, located at Navy Pier, offers upscale dinner cruises with music and panoramic views of both the sun setting on the horizon and the city lighting up before your eyes. odysseycruises.com
West Virginia
Charles Town, W.Va., is the home of Hillbrook Inn and Spa. Located on George Washington's first land purchase, this historic gem has many ways to relax on its 30 sprawling acres. Just one hour from Washington, D.C., the property boasts numerous lodging options including suites and cottages at many price points. Main House rooms, including the adorably named Snuggery, are supplied with robes, down comforters and even cookies.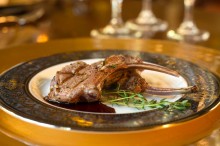 The Spa offers up numerous ways to de-stress with facials, body treatments and massages. Indulge with a romantic gourmet candlelit dinner at the Redbook Restaurant featuring fresh menu offerings and wine pairings, or opt to take a cooking class for a little cooktop bonding. The "Date Night" package includes one dozen roses, chocolate-covered strawberries and champagne, plus a romantic five-course dinner for two. hillbrookinn.com
Harper's Ferry National Historical Park is more than a park—it's an historic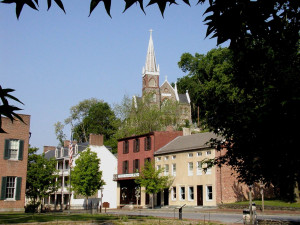 community. You could spend a day or an entire weekend exploring it. Just 20 minutes from the Hillbrook Inn and located where the Potomac and Shenandoah rivers meet, you'll feel like you've traveled back in time as you stroll the charming streets, visit museums or hike their trails or battlefields. The history here is more complex than just the story of John Brown's Raid. It's story upon story of the individuals who made Harper's Ferry home, fought here or participated in the creation of some of early engineering's marvels, you'll marvel at each turn. nps.gov
Other nearby historical attractions include The Old Opera House and Ghost Tours.
Ohio
Does the thought of twilight hikes or canoeing along a lazy river say romance to you? If getting back to nature, with all the comforts of home, is your way of unwinding and reconnecting, then Mohican Lodge and Conference Center in north central Ohio (near Loudonville) is the place for you. The main lodge offers 96 guest rooms, with modern and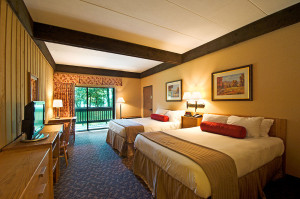 convenient in-room amenities, as well as comfortable contemporary furnishings. The added treat of your own private balcony, with views of the park and Pleasant Hill Lake, provides a great spot to just sit and relax. A sauna, heated indoor and outdoor pools, and fitness center are on premises and there are numerous opportunities to hike, play tennis or enjoy the great outdoors. Indoors, you'll find Bromfields Restaurant with many selections, including Fried Coconut Shrimp and Roasted Primavera. There is also a cocktail lounge and gift shop.
Loudonville itself is a charming community. One popular destination there for shoppers year after year is the Amish Oak Furniture Company. Save room in your car for its selection of Amish handcrafting furnishings made of oak, cherry and walnut. On second thought, you might want to rent a truck! The Copper Top Gallery is located in a lovingly restored century old downtown building, featuring over 25 local artists. The selection of art is impressive and ever changing. Another vintage downtown building is home to the Hanover House Diner. Dig in to the daily dinner or lunch special and follow it up with a piece of freshly baked pie. discovermohican.com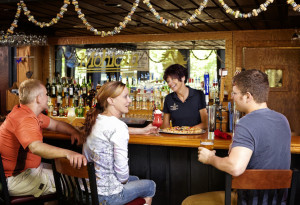 When returning to your room, continue to celebrate with a bottle of Ohio's own Firelands Riesling Champagne and a box of Coblentz chocolates. Relax, unplug and reconnect with nature and each other. mohicanstateparklodge.com