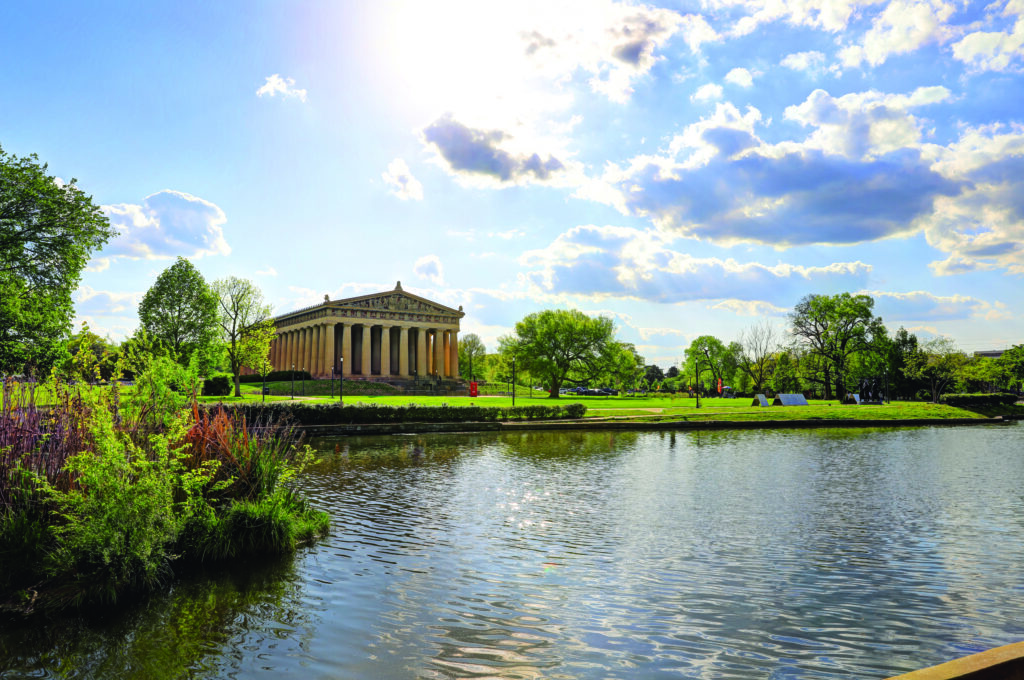 As Seen in Cincy Magazine: Nashville, Tenn., packed with attractions, from music to outdoor recreation
By Ginny McCabe
Nashville, the largest city in Tennessee, is a place where every genre of music is inspired, created, recorded and performed, but that's not all. Music City has so much more to offer. From live music, pro sports, restaurants and drinkeries to museums, historic destinations and spending time outdoors, Nashville has something for everyone.
"A lot of people are surprised when they come to Nashville if they've never been before. They don't know what to expect, and it's always so much better than they think it will be," says Deana Ivey, president of the Nashville Convention & Visitors Corp. "People don't realize how much is here and the variety that's here from the music museums, art galleries and Cheekwood to the historic attractions… And people are always so blown away by going to a songwriters show."
Only in Nashville
Nashville is a walkable city and it's the home to many open-air green spaces. The city's Centennial Park has a full-size replica of the Parthenon, complete with a 42-foot-high statue of Athena. Residents love Percy Warner Park for its walkability and hiking trails. The landscape is beautiful in Nashville, and you can rent a kayak or canoe and see the scenic views from the river.
"Nashville has great neighborhoods, and we encourage our visitors to get out into the neighborhoods. They each have their own character," Ivey says.
For example, 12South is great neighborhood for shopping. Guests can walk the streets and visit local boutiques. Wedgewood-Houston is a little more artsy with a buzzing arts hub, and East Nashville has a great food and nightlife scene with plenty of music venues, bars and restaurants.
Local eats range from authentic Southern dishes to chef-driven, fine dining with new options always coming to town such as Assembly Food Hall at Fifth + Broadway shopping and retail development. Hot chicken from Prince's Hot Chicken Shack and Hattie B's Hot Chicken, meat-and-three (a meal with a meat and three side dishes,) and pulled pork barbecue are all rooted in Music City's food culture.
An Eventful City
Music City is the home to the Nashville Predators, a professional, NHL ice hockey team. Nashville is also the home to the Tennessee Titans football team and the Nashville Sounds baseball team.
Of course, there are plenty of festivals and events to highlight. Tin Pan South Songwriters Festival will be held March 28-April 1. Songwriter showcases will be held at 10 venues across the city with 100 shows and more than 400 performers.
"This is where you can really hear some of the best songwriters in the world. Nashville has the largest community of songwriters, anywhere. If you think of any song, it was most likely written in Nashville. We call the songwriters the heroes behind the hits," Ivey says.
Nashville Comedy Festival will take place April 15-23 and the Rock 'n' Roll Running Series will be held April 22-23. In June, there's the Bonnaroo Music & Arts Festival (June 15-18), 50th CMA Fest (June 8-11) and the Ally 400 NASCAR Cup Series race weekend at Nashville Superspeedway (June 23-25.) Let Freedom Sing, Music City July 4th, a huge fireworks event with all-day music and a big evening concert, will be held July 4.
Finding the Music
Music is a universal language and there's no better way to experience music than in Nashville. Visitors will hear music playing at the airport and they will hear music playing throughout the city. There are also live music venue signs across the city, which look like guitar picks.
"I'm probably proudest of the fact that we can live and breathe our brand of being 'Music City.' It's everywhere you go. You'll hear music, you'll be touched by music, and you'll know that you are in Music City," says Ivey.
"There are a number of things you can do while you're here to enjoy the music and experience what Nashville is all about. There's everything from a music museum tour to a concert, or a big event with live music."
Nashville is home to more than 180 live music venues and patrons will easily become a fan of many different artists.
"You definitely want to see one of the music shows, so you might take in the Grand Ole Opry, or a show at the Ryman Auditorium with one of your favorite artists, or a songwriter's show like at The Bluebird Café," Ivey says.
Other top venues include The Listening Room Café, Marathon Music Works, The Basement/The Basement East and Station Inn. Honky tonks line lower Broadway in downtown.
Locals and vacationgoers alike also frequent Rudy's Jazz Room, an intimate jazz club, as well as Ascend Amphitheater, an outdoor concert venue, located downtown. In addition to country music, the Grammy Award-winning Nashville Symphony fills the Schermerhorn Symphony Center with a classical repertoire. Nashville draws upon a wide range of musical styles including Americana, bluegrass, rock, gospel, hip-hop and more.
Other-not-to-be missed historic and sightseeing stops include the Country Music Hall of Fame and Museum. Upper Broadway is also the home to international fine art at the Frist Art Museum and even more musical history can be discovered at the National Museum of African American Music.
"Nashville has the most music museums of any city in the world. So, that's one thing visitors would not want to miss, taking in a couple of those," says Ivey.