The Derby city has more to offer than horse racing and bourbon
By Emily Wolfe
Did Louisville drop off your travel radar after the Kentucky Derby? It might be time to bring it back into consideration. After all, mint juleps taste good all summer long—and with gorgeous foliage and a full lineup of fall festivals, Louisville is an ideal autumn destination.
"The fall in Louisville can sometimes be just as busy as Derby season," says Jordan Skora, the
marketing communications manager for Louisville Tourism.
No trip to Louisville is complete without a distillery tour—but don't limit your visit to horses and bourbon. Here's how to make the most of a visit to Louisville this summer or fall.
Watch the Calendar
Time your day or weekend trip to Louisville to one of the many events on its busy summer-fall
schedule. The 2023 Kentucky State Fair will run Aug. 17-27 at its usual fairground location just
south of Louisville. Along with Kentuckians' creative work, bluegrass music and livestock, this
year's fair will feature Beerfest, the fair's first-ever craft beer tasting event, on Aug. 19. Timed
to coincide with the fair, the World Championship Horse Show will take place Aug. 19-26, with
performances each evening.
September is National Bourbon Heritage Month, and Louisville will be celebrating America's
"native spirit" all month long. The Bourbon & Beyond music festival returns to the Highland
Festival Grounds at the Kentucky Expo Center Sept. 14-17, with headlining acts including Brandi
Carlile, Hozier, the Avett Brothers and Bruno Mars.
One week later, the same grounds will welcome Foo Fighters, Weezer and Green Day for the Louder Than Life Festival, Sept. 21-24.
Louisville is worth visiting in October just for the Jack O' Lantern Spectacular, a luminous "organic art gallery" in Iroquois Park, Oct. 3-31. At night, more than 5,000 lit hand-carved pumpkins hang along the path—an eerie, beautiful trail that leads guests through themed vignettes set to music. Keep the spooky vibe going with a nighttime ghost tour of Old Louisville's beautiful—and allegedly haunted—mansions. (For the faint of heart, Old Louisville also has architecture tours during the day.)
History and Heritage
Even when it's not Derby season, visitors to Louisville can get their fix of horse race history at
the Kentucky Derby Museum at Churchill Downs Racetrack. Inside, visitors can view an exhibit honoring the 50th anniversary of Secretariat's 1973 Triple Crown win, as well as the museum's recently expanded Black Heritage in Racing exhibit, which Skora praises.
"A lot of people don't realize that Black jockeys were very prominent in the sport prior to the
Jim Crow era," Skora says. "The exhibit highlights their triumphs, but also the things they had to
go through."
Stop by the Muhammad Ali Center to learn about one of Louisville's most famous natives. The
museum celebrates Ali's life, career and activism and screens some of the boxer's iconic fights.
Go Downtown for a Hot Brown
Louisville's historic Brown Hotel will celebrate its 100th anniversary with a 1920s-themed gala Oct. 25. The Brown has hosted presidents, queens and movie stars over the past century, but is most famous as the originator of Kentucky's iconic Hot Brown sandwich.
A classic Kentucky Hot Brown is an open-faced turkey sandwich topped with bacon, tomato and
Mornay sauce. Some restaurants keep things fresh with their own spin on the Louisville staple, from Napa River Grill's Hot Brown Oysters to Agave & Rye's Hot Brown Tacos. Visit during Hot Brown Week in October to try them all.
Then head to the distillery of your choice to wash down your Hot Brown with a bourbon tour and tasting—there are eight Kentucky Bourbon Trail stops located within Louisville city limits. Bourbon tours fill up quickly, so Skora advises booking in advance.
One distillery offering a distinctive bourbon tour is the Evan Williams Bourbon Experience, located on Whiskey Row, where visitors can opt for a "speakeasy" tasting led by a historical reenactor playing the role of Louisville native Tom Bullock—the first Black American to write and publish a cocktail book.
An Evolving Food Scene
Louisville's food and drink scene isn't limited to Hot Browns and bourbon. The buzzing NuLu neighborhood on Market Street is home to restaurants devoted to various cuisines, from the
New Orleans-focused Lou Lou on Market to Cuban kitchen La Bodeguita de Mima. The neighborhood also has plenty of options for speakeasies and bars, like the rooftop bar at Hotel
Genevieve.
"It's new and shiny, but doesn't feel touristy at all," Skora says of the NuLu neighborhood. "It's got a good vibe to it."
For a farm-fresh, "Instagrammable" meal outside of Louisville, stop at Hermitage Farm's Barn8
restaurant on your way in or out of the city.
Interested in horse breeding or racing? Leave room
for a farm tour after your meal. Hermitage is a working thoroughbred farm that has produced a
number of championship horses including Dark Star, the winner of the 1953 Kentucky Derby.
Skyline View
Louisville has a robust park system, with many miles of trails for pedestrians and cyclists. For a
one-of-a-kind view of the city and riverfront, take the time to walk along the Big Four Bridge, the mile-long pedestrian bridge that spans the Ohio River, connecting Louisville to Jeffersonville, Indiana.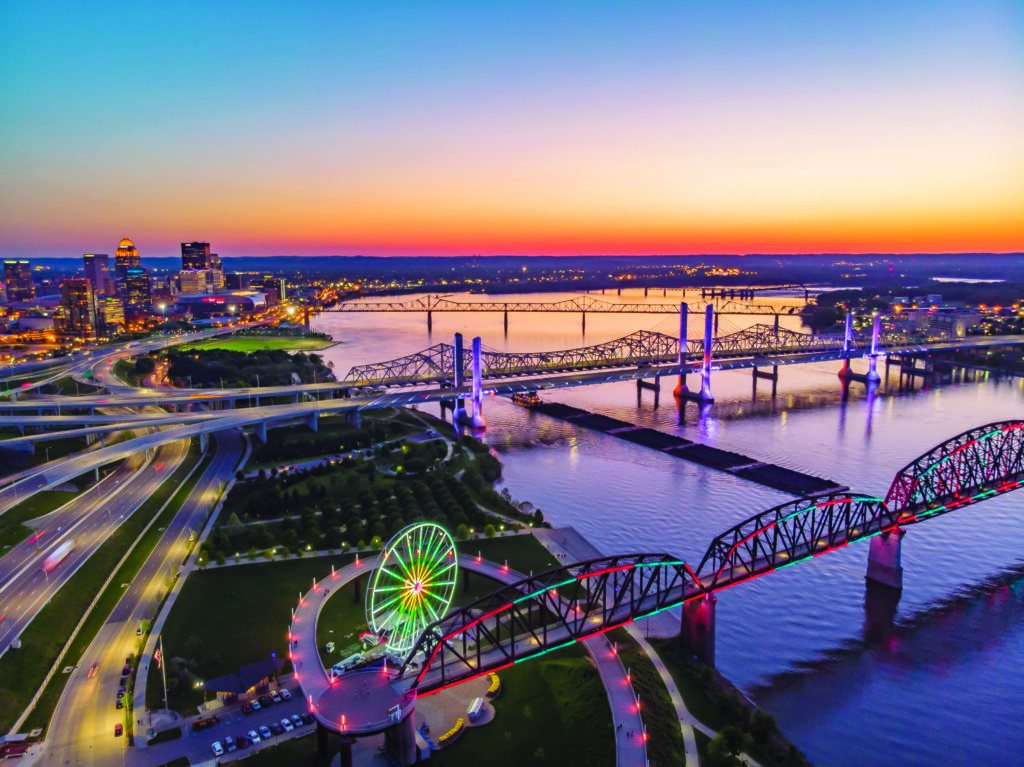 "You're watching the sunset, the skyline, the riverboats going underneath," Skora says. "It
doesn't seem like a mile when you're up there, because it's so pretty."