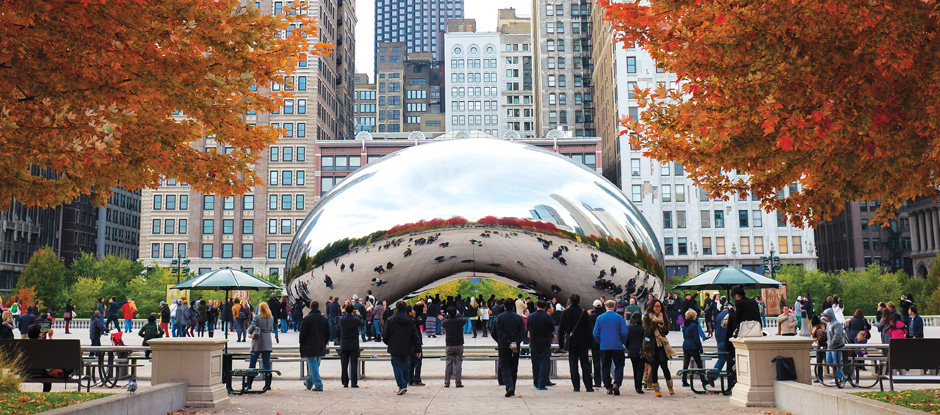 Chicago is a great place for summer festivals, outdoor activities, biking and more
By Andrea Oberto 
From music festivals, to museums and parks, Chicago offers great options to make the experience your own. One of the city's many highlights is the variety of activities, and natural beauty, which people who live there are very passionate about.
"I've lived in many different places, but Chicago has it all! We have all the great amenities, like music, theater, and museums, of a big city with the distinct and diverse neighborhoods that provide a small community experience, plus the natural beauty of Lake Michigan coupled with the modernist architecture make Chicago a stunning city," says Lynn Osmond, CEO of Choose Chicago.
Festivals
Whether you are looking for music festivals to attend with friends, or want to spend the afternoon looking at art for a more relaxing experience with family, there's a variety of events to visit.
Visit Lollapalooza, the four-day festival with 9 stages, and 170+ bands from all over the world that makes hands wave and heads nod every year. 
If you like art, you can visit the Old Town Art Fair. There will be 200+ nationally acclaimed artists, an estimated 30,000 art lovers, a Garden Walk, live music and more.
Food
"Chicago has a world-class food scene. One of my favorite things to do is visit some of the neighborhood spots. Consider exploring Chinatown, Pilsen, or any neighborhood and having lunch or dinner there," says Osmond.
One of the main food festivals is Mole de Mayo. The three-day fest located on 18th St. (Blue Island Ave. and Ashland Ave.) includes an open-air mercado where you can find local merchants, crafters, and artisans. You will also find music, dancing, and smells of savory mole dishes.
Museums and parks
Here are a few suggestions from Lynn Osmond of museums and parks you shouldn't miss. 
"Checking out Millennium Park – Home of the famous Chicago Bean, Millennium Park offers tons of things, from ice skating in the winter, to summer concerts, and lots of things in between," says Osmond.
"I'd encourage you to explore Museum Campus – Chicago has dozens of great cultural institutions, and Museum Campus is a great place to start by visiting the Shedd Aquarium, Adler Planetarium and many others."
Architecture and City Niews
Chicago is a beautiful city. Lake Michigan provides a backdrop for the city and its natural beauty.
"[I recommend] seeing the city from the water — The Chicago Architecture Center River Cruise is a great way to see the city from an entirely different perspective while spending time on the water," says Osmond.
The variety of options can be slightly overwhelming, so Lynn Osmond suggests planning ahead to make the most out of your visit to the windy city.
"As you are planning your trip to Chicago, make sure to check the Things To Do calendar to see what is happening during your visit," says Osmond.