By Haley Jena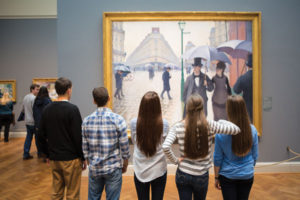 Pop quiz: Where can you feel at home while noshing on a hot dog loaded with more ingredients countable on one hand, walk through illustrious grey and black skyscrapers, cheer on a World Series-winning baseball team, breathe in the beauty of nature, take a selfie with a mirror-cloaked bean, shop 'til you drop and beyond—all in one place? It's none other than Chicago, Ill.
It's almost hard to believe that the third-largest city in the U.S. is in the Midwest, let alone under a five-hour drive from the Miami Valley. With options for both night crawlers and outdoor lovers, for both shoppers and foodies and for any other crowd, this city is entertaining, affordable and just what you need to jumpstart your fall.
"This is a time where the city comes alive," says Choose Chicago President and CEO David Whitaker. "There's so much natural beauty with the changing of the leaves. We start neighboring a little more brisk weather and there's plenty of things to do in an indoor and outdoor setting."
One could live in the city forever and not be able to see everything it has to offer, but we've narrowed down the essentials for your getaway bucket list.
Chicago's most-visited attraction is Navy Pier, drawing in about nine million visitors each year. Visitors can look one way to enjoy lakeside views then turn around to catch an incredible skyline view. Located on the shore of Lake Michigan, visitors can go shopping, ride a Ferris wheel, catch a movie or live show, grab dinner or hop on the city's famous water taxis.
Beyond the pier, perhaps the most recognizable sculpture in Chicago is Cloud Gate, popularly known as "The Bean." This elliptical sculpture sits in Millennium Park and is composed of highly polished stainless steel plates acting as a giant mirror reflecting the skyline and its approximate three million yearly visitors.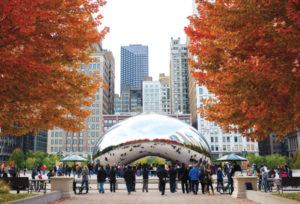 After taking a #BeanSelfie, visitors can stroll over to Buckingham Fountain in Grant Park. The famous film spot for the Married With Children theme song and the center of Lollapalooza, this fountain and park provide peaceful views and a relaxing outdoor experience in the middle of a metropolis.
Next, go eye-to-eye with the city's skyscrapers by riding up 103 floors (1,353 feet in the air to be exact) at the Ledge, located in Willis Tower. The Ledge features clear, glass boxes that extend out 4.3 feet from the tower's Skydeck, providing an unobstructed and exhilarating view unlike any other.
Additionally, don't forget to treat yourself along the Magnificent Mile, the famous upscale section filled with decadent shopping opportunities along Michigan Avenue, hit up the Lincoln Park Zoo, take an architecture tour—the opportunities are endless.
Beyond essential tourism spots, Chicago is a huge city for arts and culture. Chi-Town is home for many musicians, artists and several cultural icons, such as Barack and Michelle Obama, Chance the Rapper and Oprah. Visitors of the city can see where these icons got their genius from—the metropolis is bursting with inspiration.
Take the day off just like Ferris Bueller and wander about in the Art Institute of Chicago, which always promises interesting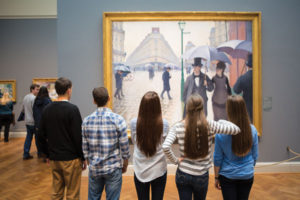 exhibits, as well as recognizable permanent works that are breathtaking to see up close. Looking for laughs? Catch a live improv show any night of the week at The Second City. This iconic comedy club is the home of Tina Fey, Bill Murray, Steve Carell and other mega-famous and mega-funny stars who performed here before fame.
Music lovers can embrace the city that gave birth to blues and jazz, and can enjoy any of the world-famous festivals the city hosts certain weekends of the year. Looking for a live production? Go front row at a Broadway in Chicago show, or see the city's talent shine at any one of the Tony Award-winning theaters. Beyond that, the city has a bustling nightlife, perfect for late-night fun.
"The fall is when theater season kicks into high gear," Whitaker says. "Beyond that, our live music scene is always diverse with gospel, soul, blues, jazz, house, rap—there's a huge diversity of offerings."
While Chicago is always buzzing with overflowing entertainment options only found in a big city, there are more than enough sources of fun for sports and outdoors lovers.
Travel to the nation's second-oldest ballpark, Wrigley Field, and root for the Chicago Cubs, last year's World Series winners after a 108-year championship drought. The energy in the stadium is sure to be buzzing and is a perfect go-to activity for any local or tourist alike. If one baseball game isn't enough, catch a White Sox game, too! For those who aren't huge baseball fans, fear not—the city has an enormous amount of other sports teams to watch: football with the Bears, hockey with the Blackhawks, basketball with the Bulls and more.
Furthermore, those who seek comfort in the outdoors have several options in the Windy City. Chicago's Lakefront Trail is an 18-mile paved path along Lake Michigan perfect for walking, biking, rollerblading and more with a gorgeous view of the water. To the other side, there are lush, green parks intermingled with sports fields and courts, beaches, gardens, serene nature spots, boardwalk entertainment and food and more. At Lurie Garden visitors can literally stop and smell the roses at this urban oasis. Additionally, there are six main beaches (in the city!) where sun-lovers can catch a tan. For a late night adventure, visitors can go kayaking on the Chicago river at sunset to catch fireworks on the river off Navy Pier.
"We're positioned right along the Great Lakes and there's so many amazing parks within the city to enjoy in the fall," Whitaker says.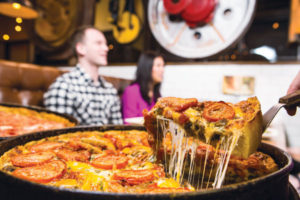 With all these alternatives for amusement most would need some time to sit back, relax and recharge—and lucky for its visitors, the Windy City has a stellar food and drink scene—it was recently named Bon Appétit's Restaurant City of the Year and is "great for foodies," Whitaker says. No matter if you're recuperating with comfort food after a long day of fun or gearing up to go out, just like all other aspects of the city there is something for everyone.
Luckily, the two culinary treats Chicago is most famous for happen to be both delicious and easy to find: hot dogs and pizza. The Chicago dog is a quintessential (and yummy) lunch go-to, loaded with seven key toppings (mustard, relish, pickle, onion, tomato, celery salt and sports peppers). When your hunger strikes again, grab a slice of a Chicago deep-dish pizza to delight your taste buds.
In the mood for a snack? Devour a bag of Garrett Popcorn, a Chicago tradition since its creation almost 70 years ago. For dinner, nosh on an Italian beef sandwich or hit up a Chicago steakhouse—both city favorites. For those who love gastronomic choices pick a spot in any of its foodie neighborhoods, from Chinatown to Greektown to Pilsen and more.
Chicago also enjoys a chic cocktail scene and over 50 local craft breweries, as well as endless options for going out, from cozy dives to crowded clubs. No matter your tastes, anyone's senses are sure to be delighted during a Chi-Town getaway.
While there are several incredible options for anyone interest in Chicago, perhaps the most enjoyable part about a Windy City getaway is its strong, welcoming attitude.
"Home is not just where you're from—home is where you fit right in," Whitaker says. "And that's Chicago. We've got that Midwestern hospitality and friendliness. We are a relaxed city—when people come here they feel right at home, whereas other cities might have an animated or fabricated vibe… In Chicago, you can just be yourself, relax and do what matters most to you, in a city with so many options for entertainment or activity," he says. "We welcome visitors as friends and they leave as family."