By Leah Fightmaster
Just a short drive east, past the malls and hustle and bustle of Cincinnati, is an area of farms and small-town charm that is the Amish community.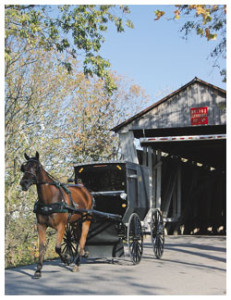 Rural Adams County lies east of Cincinnati, past Batavia and Eastgate, on state Route 32. Amid the 100 or so households that make up the Amish communities of the county, you can find family-owned markets including Keim Family Market and Miller's Bakery and Furniture, and pastoral industries, including Raber's Shoes and Saddlery and Stutzman's Woodworking.
Contacting the Adams County Travel & Visitors' Bureau at (937) 544-5454 or www.adamscountytravel.org, is a good way to plan your visit.
The bureau can send you a print guide, answer questions and make suggestions.
You can also download the guide from their website.
AMISH SCHOOL BENEFIT AUCTION
A special event this fall is the annual Wheat Ridge Amish School Benefit Auction and Supper.
Because Amish schools are not supported by taxes, families pay tuition and raise money through fundraising. The auction, held twice a year and open to the public, includes a home-cooked Amish meal, an auction of handmade wares and dinner. The evening ends with a community event, during which Amish and "English" (people outside the community) socialize.
"Hundreds of people show up for this every year, and all the proceeds go to Amish parochial schools," says Tom Cross, executive director of the Adams County TVB. "(The Amish) are a tight-knit community. It's pretty nice "" everyone knows everyone, and they get along well."
KEIM FAMILY MARKET
Shopping highlights include Keim Family Market in Seaman. The Amish and family-run market offers hundreds of homemade items ranging from food to furniture. Many items are typical country jams and jellies, but specialties also include homemade soap, yogurt-covered peanuts and malted milk balls the size of a half dollar. You can stop to gather goods for a picnic, buy treats for friends and family at home or browse the numerous items that the market has to offer. It's a great idea to bring a cooler for the food you'll be tempted to buy. 2621 Burnt Cabin Road, Seaman. 8 a.m. to 6 p.m. Monday through Friday, 8 a.m. to 5 p.m. Saturday. (937) 386-9995.
BARN SALE ANTIQUES
Antique shops are popular in Adams County. Barn Sale Antiques in West Union specializes in materials including machinery, furniture and potbelly stoves. Check out this store for the collector in your life, the cook, or for some impromptu country redecorating. 817 Tater Ridge Road. Open most days. (937) 544-8252.

PEEBLES FLOWER SHOP & ANTIQUES
This antique shop specializes in more recent antiques, such as Depression-era glassware and country items, but still has finds that include furniture, small antiques and fresh-cut flowers for an assortment of gifts and discoveries. 25905 state Route 41, Peebles. Open 9 a.m. to 5 p.m. Sunday through Friday and 9 a.m. to 2 p.m. Saturday. (937) 587-3339.
ROOSTER'S NEST BED & BREAKFAST & ANTIQUES
This combination B&B and antique shop boasts hard-to-find items, making the store a possible treasure trove for a unique gift or decoration.
The bed and breakfast has three rooms furnished with antiques, many of which are on sale. It is located on 25 acres that include a stocked lake and walking trails. 2658 Coon Hill Road, Winchester. Open daily or by chance. (937) 386-3302 or (877) 386-3302, www.roostersnest.net.
JOHN T. WILSON HOME
A great addition to your trip is a visit to the historical John T. Wilson home, located in Tranquility. The brick house with a secret staircase was built in the 1840s and owned by the Honorable John T. Wilson, congressman and friend of President Abraham Lincoln. Wilson was a strong abolitionist and played an important role in the Underground Railroad in Adams County. The house is being restored. Old state Route 32, Tranquility. No phone.

HARSHAVILLE COVERED BRIDGE
Although it's not the only covered bridge in Adams County, the Harshaville Covered Bridge is the only one still in use. Built around 1855, it was used by Confederate Gen. John Morgan and his Raiders while passing through the county during the Civil War. Graces Run Road at state Route 1, Harshaville. Open daily. No phone.
MURPHIN RIDGE INN & RESTAURANT
For dinner or an overnight stay, check out the Murphin Ridge Inn & Restaurant, named one of 54 great inns of America by National Geographic Traveler magazine.
Housed in a restored 1826 farmhouse, the inn is made up of 10 rooms and nine log cabins, open seven days a week for its B&B guests. The restaurant is a great place for a good meal, known for using fruits and vegetables from neighboring Amish and the inn's gardens. 750 Murphin Ridge Road, West Union. Open for dinner 5:30 to 7:30 p.m. Tuesday through Saturday for general public, open daily for B&B guests. (937) 544-2263 or www.murphinridgeinn.com.
OLDE WAYSIDE INN
If log cabins are your thing, then this inn is the place for you. Constructed from logs, the Olde Wayside Inn originally served as a tavern, built in 1804 by Gen. David Bradford, and was named Bradford's Tavern. Gen. Andrew Jackson and Mexican Gen. Santa Anna were once entertained at this registered Ohio historical landmark. Still in use today, the inn offers five sleeping rooms and traditional home-cooked meals during special events throughout the year. 222 W. Main St., West Union. Call (937) 544-7103 for details about events and availability.
BLAKE PHARMACY
This 1961 soda counter allows you to take a trip (or a sip) back in time to when saddle shoes, West Side Story and Elvis were all the rage. Reminisce about the good ol' days while sipping on 5-cent Cokes, nibbling on tasty sandwiches, or savoring tasty milkshakes. 206 N. Market St., West Union. 9 a.m. to 8 p.m. Monday through Saturday and 1 p.m. to 5 p.m. Sunday. (937) 544-2451.
COUNTRYSIDE FURNITURE & MOTION CLOCKS
Specializing in furniture made from all types of wood, Countryside Furniture & Motion Clocks is known for its durable furniture for all places of the house.
Building furniture from woods including cedar, oak and hickory, Countryside sells living room and bedroom pieces, recliners, outdoor sets and more. But what's special about this place is the "motion clocks," which change their shape with the hour and their melody depending on the time. 4153 Unity Road, West Union. 8 a.m. to 6 p.m. Monday through Saturday. (937) 544-8019.
EDGE OF APPALACHIA PRESERVE
Owned by the Cincinnati Museum Center, this 14,000-acre area is home to flora and fauna indigenous to the Appalachian region. The western edge, which divides Adams County from north to south, contains a series of preserves that stretch along Cedar Creek and Ohio Brush Creek.
First purchased for the preserves in 1959, this area was a playground for privileged Cincinnatians beginning in the 1860s and has invited scientific interest for even longer.
Hike on the seven miles of trails, which are full of woods, waterfalls, streams, and plants and animals found nowhere else in the Midwest.
Begins just east of West Union in the town of Lynx. (937) 544-2880 or www.cincymuseum.org.
MOYER"S VINEYARDS WINERY & RESTAURANT
Seated on the banks of the Ohio River, this winery and restaurant is the definition of locally fermented wine. Serving family-owned and locally made food and products for more than 25 years, Moyer's offers an array of fine wines for the connoisseur or the casual taster. Paired with the savory food and stellar views, this place is sure to be a recipe for enjoyment. 3859 U.S. Route 52, Manchester. 11:30 a.m. to 5 p.m. Friday and Saturday, noon to 5 p.m. Sundays October through May. (937) 549-2957.
SERPENT MOUND
The thought of snakes and crop circles sounds like something out of an Indiana Jones movie, right? In this case, we're talking about Native Americans, who created the largest serpent effigy in the United States. Shaped like a snake with an egg in its mouth, the mound is aligned to the summer and winter solstices and draws people from all over the world. 3850 state Route 73, Peebles. (937) 587-2796 or www.greatserpentmound.com.
---