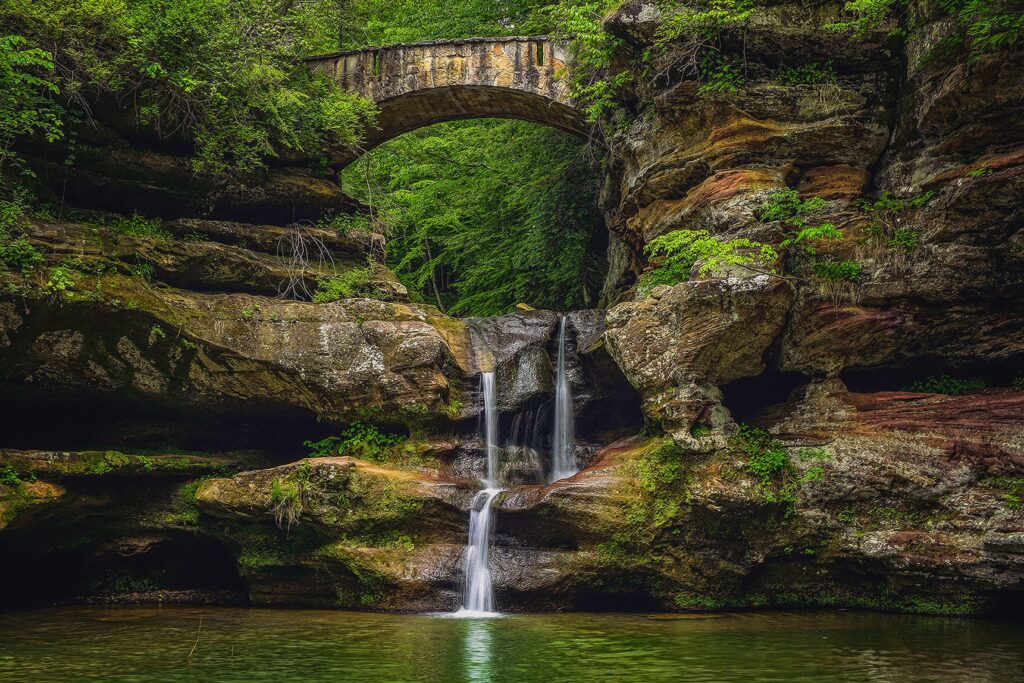 Enjoy the outdoors with a trip to southeast Ohio
By Sean McMahon
If you're searching for a nearby location with plenty of outdoor activities to do, look no further than Hocking Hills, Ohio. With just a two-hour drive from Cincinnati or about an hour drive from Columbus, this vast forest offers plenty of opportunities enjoy the outdoors. 
1. Take a hike! 
Seriously! Go hiking! Hocking Hills is home to many notable hiking trails such as those near Old Man's Cave, Ash Cave, Cedar Falls, and Conkles Hollow State Nature Preserve. Hocking Hills Forest alone spans 9,815 acres of land that includes 59 miles of hiking on three trails and 40 more miles of bridle trails.  
Rose Lake, located within Hocking Hills State Park, is a popular viewing site in Hocking Hills that has a colorful view in the fall when all of the various species of trees surrounding the large lake begin to change color. In the fall, visitors can ogle at the raging red of the scarlet oaks, the blazing orange of the sassafras and the bright yellow of the poplars that all line the edge of the lake. 
"It's very beautiful in the fall," says Audrey Martin, deputy director of Explore Hocking Hills. "The reflection from the fall leaves really do add to the spectacular views that you see. They restock the lake with trout every year and make a big deal out of it. It's a fisherman's paradise so-to-speak."   
2. Zip lining through the trees. 
Hocking Hills is one of only a few places in the state of Ohio with a zip line attraction. Located in Rockbridge, Ohio, just off US route 33, is Hocking Hills Canopy Tours, which opened in 2008. Visitors can glide from tree to tree and see the surrounding Hocking Hills Forest from up high. For ages 10 and up, Hocking Hills Canopy Tours offers two different zip line tours including the Original Canopy Tour and the X-Tour. Both take roughly two and a half to three hours to complete. There is even an option for nighttime ziplining. For those who do not want to zipline, Hocking Hills Canopy Tours offers other activities, including an off-road ride on a Segway.  
3. Test your putting skills. 
Hocking Hills has several mini golf locations. One is Adventure Golf at Rempel's Grove, which features 18 holes with seasonal decorations and a waterfall. Next door to the course is Treehouse Treats & Treasures, where visitors can purchase ice cream, and Ruby's Petting Zoo, where visitors can feed deer and pygmy goats.  
4. "Ride like the wind, Bullseye!" 
Hocking Hills has many different locations where guests can ride horses through miles of forest trails. Spotted Horse Ranch has 500 acres of land and 35 miles of trail and offers reservations for large groups and single riders. Uncle Buck's Riding Stable offers three different tours along with food and beverages including beer and wine. 
5. Kayak or canoe on the Hocking River. 
For adventurers who enjoy being out on the water, there are plenty of places where visitors can kayak or canoe! One such place is on the Hocking River, which features a 3-mile trip, 6-mile trip, and 8-mile trip through Adventure Pro Outdoors. Those who have their own canoe or kayak can travel to Lake Logan State Park located just off US Route 33. Boat rentals are also available. The lake sports plenty species of fish for those who enjoy fishing.