By Julie Bethlenfalvy
The original "Sin City," Newport, Ky., used to be filled with speakeasies and scandals, wise guys and shoot 'em ups. For roughly 200 years, Newport had a reputation that said unlawful activities were a way of life. Newport's location along the Ohio River made it a prime spot for the booming bootlegging industry, attracting more of the criminal element.
Today, Newport has embraced its sordid history and, along with gangster tours, the city entices travelers from near and far with entertainment venues, breweries, distilleries, music venues and family-friendly festivals.
"Newport is in the center of Greater Cincinnati, giving us the advantage of location, location, location. We have great access to I-75, I-71 and I-471, as well as direct connections to Covington and downtown Cincinnati," says Tom Fromme, Newport's city manager.
As a life-long resident, Fromme knows about all the various restaurants, retail establishments and festivals in the city. And now, it's your turn.
Bourbon, Beer & Bites
Whether you're a bourbon enthusiast, a microbrew master or a foodie, there's a place in Newport for you.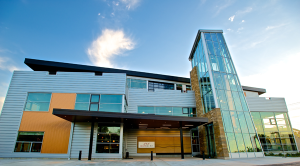 Only around one year old, New Riff Distilling already has two award-winning spirits under its belt: Kentucky Wild Gin and O.K.I. Straight Bourbon Whiskey. Although New Riff's bourbon won't be ready for consumption until 2018, visitors can tour the facility to see its 60-foot tall, 24-inch wide column still and learn about the whiskey-making process. The distillery also has a small tasting bar and a gift shop that sells bourbon cookbooks, locally made glassware, jewelry and more.
Local couple Jon and Betsy Newberry brought Wiedemann beer back in 2012 after a six-year hiatus. The Bohemian-style beer had been a Tristate staple since 1870 when George Wiedemann created the local lager. Now Geo. Wiedemann Brewing Company's creation, the new Wiedemann's Special Lager, pays homage to Wiedemann's recipe, as well as making a new name for itself in today's popular microbrewery market. The lager is available year-round and can be found at stores and events around Greater Cincinnati.
Newberry Bros. Coffee has more than organic, fair-trade coffee—it has bourbon. Lots and lots of bourbon. At more than 500 and counting, the café and bistro has the largest selection of bourbon and rye whiskeys in the world, such as Old Forester and Jack Daniels. Along with its tasty small plates and desserts, Newberry Bros. has more than 60 craft beers and more than 60 wines by the glass. Newberry Bros. also has monthly bourbon and wine tastings.
Another popular Newport locale, Pompilios also has bourbon tastings in addition to its traditional Italian fare. Pompilios and Colonel Pomps, its tavern, have more than 30 Kentucky bourbons. The family-friendly establishment opened in 1933 and was the first Kentucky bar and restaurant to secure a liquor license after Prohibition was repealed. Pompilios and Colonel Pomp feature live bands, local brews, an outdoor bocci-ball court and a bocci bar.
New kid on the block Bourbon & Broad opened at the beginning of 2015. The Cajun-American menu features half-pound burgers, including the "Cef Burger," which is named after owner Michael Cefaratti and is stuffed with jalapeños. And most of the menu will be made from fresh ingredients. Bourbon & Broad's has more than 60 bourbons, 32 craft beers on draft, 50-plus bottled beers, and wines and specialty cocktails. And with a musician at the helm—Cefaratti worked as a country music singer-songwriter in Nashville—expect live local bands, Nashville touring artists and appearances by Cefaratti.
The Green Derby has been around since 1947. Now under new ownership, the Newport mainstay is getting revamped. New owner Michael Brauninger is planning to add a full bourbon bar, a state-of-the-art 16-tap draft beer system—which will feature local brews—and a revised menu. Fortunately, the fan favorite Kentucky Hot Brown will stay on the menu. Brauninger also already added a 24-seat outdoor patio.
Neighborhood bar The Crazy Fox Saloon celebrated its 15th anniversary in 2014. The bar is located in Newport's historic East Row neighborhood and attracts a great mix of people and conversation. The Crazy Fox also has darts, pool, pinball and a seasonal patio, and serves a variety of spirits, draft and bottled beer, and absinthe.
Mokka and the Sunset Bar & Grill is a local haunt for brunch. Try Mokka's Goetta Grilled Cheese, which is served on grilled white bread, with crispy goetta—a German breakfast sausage mixed with oat—and a thick layer of American cheese. You won't regret it, and it's on the lunch and dinner menu, too. Mokka also has vegetarian and healthy options, as well as live music Thursday through Saturday.
Sis's on Monmouth has good food, cold beer, a great menu and a friendly staff. Serving breakfast, lunch and dinner, Sis's prices are really reasonable. And there's live music almost every night from bands like Northern Kentucky Bluegrass Band and American Standard Band, which plays acoustic classic rock. If you want a great seat for the show, Sis's suggest you make a reservation.
Built in the late 1880s, the York St. Café and Rock Bar is a Newport destination for its acoustic, rock, jazz, and rhythm and blues shows. It also has a restaurant, a lounge and an art gallery. The restaurant prepares its sauces, ingredients, soups and desserts using fresh ingredients. And York St. Café was a finalist for NKY Magazine's Best Patio Dining Spot in 2014 because of its quaint, brick patio that has flowers, plants and homey patio furniture.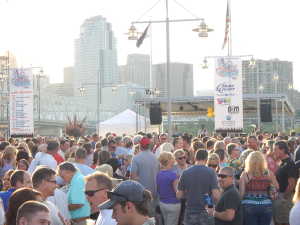 Music Matters
The music scene is integral to Newport's way of life. Most bars and restaurants have live music, so it's only right that the city has three major music venues that host a variety of genres and its very own summer concert series.
Built in 1866, The Southgate House Revival is located in the old Grace Methodist Episcopal Church. The unique venue hosts all kinds of music in three rooms—The Sanctuary, The Lounge and The Revival Room—such as rock 'n' roll, rockabilly, alternative rock, punk, bluegrass and Americana. The Sanctuary, the main room, still has an original pipe organ and stained glass windows.
Eat, drink and be merry at the Gangsters Dueling Piano Bar and Restaurant. Talented pianists from around the Midwest take requests and play your favorite songs, so expect "Piano Man," a dueling piano bar favorite. Gangsters is the only dueling piano bar in Greater Cincinnati and there's no cover fee. Also the home of the Newport Gangster Tours, Gangsters is located in the Newport Syndicate.
Thompson House, a historic mansion, is one of the go-to venues for music around town. Stop in for a drink where you can party like a rock star in the aptly named Rockstar Lounge or chill out in the Lobby Bar, listening to notes flowing from the Tommygun Theater. Upstairs, The Shooting Gallery also houses an art gallery and acoustic space. The venue is the former home of Gen. John Thompson, the inventor of the Thompson submachine gun, dubbed "Tommy Gun," which became the preferred weapon of choice for gangsters in the 1920s.
Live at the Levee Summer Concert Series returns summer 2015. As the largest patio party in Northern Kentucky, the free event rocks every Thursday from 7-10 p.m. until Sept. 4, when The Rusty Griswolds, a popular local '80s cover band, wraps up the series. Live at the Levee takes place on the Riverfront Plaza next to the Newport Aquarium at Newport on the Levee.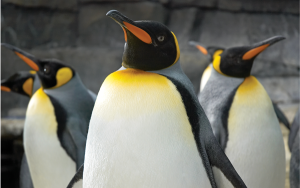 Fun & Festivals
You'll never get bored in Newport. It's home to Newport on the Levee and the Newport Aquarium. If you're not familiar with the retail, dining and entertainment behemoth that is Newport on the Levee, it's a definite must-stop for the trip. The Newport Aquarium is also at the Levee, so stop by its new Shark Bridge exhibit, play with penguins and visit the thousands of other sea creatures.
Newport has so many festivals that there are at least one or two festivals during the warmer months. Sample the best of Newport and Kentucky cuisine at the Taste of Newport (June 7); head down to the riverfront for the 24th Newport Italianfest (June 11-14); the three important "Bs" are combined at the Bacon, Bourbon & Brew Festival (July 10-12); and celebrate all things German at Glier's Goettafest (Aug. 6-9) and at Newport Oktoberfest (Sept. 25-27).
For the city, attracting businesses and bolstering residents' quality of life is just as important as providing entertainment. Newport on the Levee's $80 million expansion announcement in 2014 is a big win for accomplishing this goal.
"Without a doubt, our elected leaders and staff work hard toward the constant betterment of our city," says Fromme. "Newport is small enough to provide personal service. We're easy to work with and very accessible to our business community."
The expansion will include a new 144-room Aloft hotel with all its techie and modern amenities and Aqua at the Levee has already broken ground on the 239 luxury apartments atop an 800-space garage and commercial and retail space. Other wins for Newport in the past year include a Fresh Thyme Farmer's Market moving into Newport Plaza and a new, six-story, 119-room Hampton replacing the Travelodge after it's demolished.
Newport has hotels—so don't worry. You have somewhere to stay when you come visit tomorrow.