Berea and Historic Boone Tavern are ready for those wanting a quick getaway
By Corinne Minard
After almost a year of living with a pandemic, most of us are looking for an escape. But how to do so while staying safe? Berea, Kentucky—a small city just two hours south of Cincinnati—has positioned itself as a unique destination for doing just that.
"Berea is a special place like no other," says Patrick Huston, director of sales and marketing for the Historic Boone Tavern in Berea. "Berea is home to many local crafters and artists, many of whom have stores throughout the community. Besides the crafts and Berea College, there are many outdoor low-cost adventures to experience in Berea."
The history of both the town and college have shaped the region. The community was initially built on land given to John Fee by abolitionist Cassius Clay in 1853. Berea College was founded in 1855 as the first interracial and coeducational college in the South. Today, the college is known for serving economically disadvantaged students, asking its students to work 10 hours a week instead of charging tuition.
This unusual history has created a welcoming environment that can be found throughout the town. Historic Boone Tavern, for example, employs many student workers and prides itself on its cozy atmosphere.
"When you walk into the lobby, the first thing you think is, 'Oh my gosh, I want to sit next to the fireplace in the big comfy chair,'" says Huston.
Within Berea itself, there are many activities during which you can remained socially distanced. The Pinnacles in Berea College Forest is a series of hiking trails that provide hikers amazing views of the surrounding area and Appalachian Mountains. Those wanting to get on the water can rent a canoe from Get Outside Kentucky.
Art lovers should make a stop by Berea Tourism in the old L&N Station for directions to local artists. As the home of the Kentucky Guild of Artisans and Craftsmen, many artists have studios in Berea in which you can watch them work. Berea Tourism can let you know who's open and the studio's COVID-19 protocols.
Between excursions, visitors to the region can relax at the Boone Tavern. With only 63 rooms, it's easy to keep to your group.
"Social distancing is key at Boone Tavern. The hotel has limited capacity in the dining room, as well as its meeting rooms, by 50% or more. Additional cleaning and sanitizing measures have been put into place, including additional sanitizing in guest rooms, floor door openers and touchless restrooms. Employees and guests are all required to wear masks, and employees undergo daily temperature checks as well as monthly COVID tests," says Huston.
Guests can order room service or enjoy Appalachian-inspired dishes in the hotel's dining room. It is most known for its spoonbread, a cornmeal soufflé dish locally popular to the area.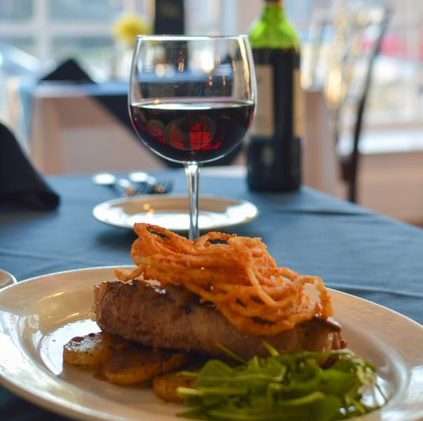 After your meal, Huston recommends taking a walk outside to take in the view. "Berea is nestled kind of at the edge of the Appalachian Mountains and you can see them off into the distance. It's just an amazing view," he says. "Almost everywhere you look, you can see mountains in the background.
As seen in Cincy Magazine and Dayton Magazine