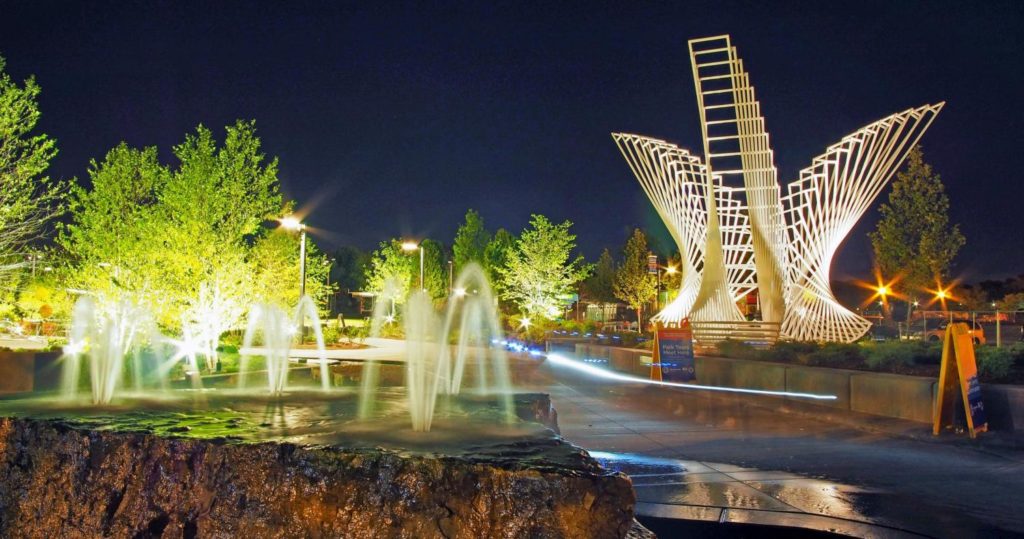 Nearby cities in the Hoosier State are great for families looking for a day or weekend trip
By Corinne Minard
After months of staying home, even something simple like a day or overnight trip sounds like a wonderful escape. With many Indiana cities only 1 to 3 hours away by car, the state is ideal for this type of trip. The state is also packed with entertainment and recreation opportunities for those looking for some time away.
Fort Wayne
Those who want to enjoy the outdoors will find plenty to do in Fort Wayne. Promenade Park, a park that sits on the three rivers that flow through downtown Fort Wayne, opened last August and features recreational opportunities for people of all ages and abilities. The park has a treetop canopy trail, kids' canal, playground, accessible ramps for kayaking and paddleboarding, and even a riverboat cruise on a replica canal boat.
"The three rivers are natural but you can see the city from them, so it's a cool combo, kind of like nature in an urban environment," says Kristen Guthrie, vice president of marketing and communications for Visit Fort Wayne.
The park's location also makes it easy to jump from walking the treetop trail to exploring the city. Within just a few blocks, visitors can explore local museums and attractions, like the Fort Wayne Museum of Art, or stop by one of the 50 nearby restaurants.
In addition, just a block away is a new area called The Landing, which is a recently updated historical street that features restaurants and retail.
"I think the convenience is something people love about Fort Wayne—stay downtown and walk to all of these great places. it's just really easy to enjoy nature and fine dining and museums and all that just within steps of each other," says Guthrie.
Other outdoor recreation options in Fort Wayne include 120 miles of trails, the Eagle Marsh wetland nature preserve, a self-guided public art tour and the Fort Wayne Children's Zoo.
Richmond
Families that want to enjoy a variety of experiences while social distancing will easily be able to do so in Richmond.
The region's Antique Alley, for instance, features more than 1,200 antique dealers along two loop trails.
"All the trails start in Richmond and then meet back to Richmond," says Nancy Sartain, leisure marketing director for the Richmond Wayne County Convention & Tourism Bureau. "And you can't do the trails of the antiquing in one day. You either spend the night or you come out and do one and then come up another time and do the other."
Another popular activity is the Chocolate Trail. After picking up their passport at The Old National Road Welcome Center, chocolate lovers can receive free samples from 10 locations on the trail. Sartain says that Abbott's Candies in Hagerstown, which has been making chocolate since 1890, is a must-visit stop. Other stops of note include Warm Glow Candle Company, where those following the trail receive a chocolate-scented votive candle, and Ullery's Homemade Ice Cream.
Sartain adds that it's easy to incorporate the county's mural trail into the chocolate trail, too, as there are more than 80 in the county.
There are also plenty of outdoor recreation opportunities. Visitors can take special night hikes and bird watching tours at Cope Environmental Center, go fossil hunting at Thistlethwaite Falls and take part in a scavenger hunt at Hayes Arboretum.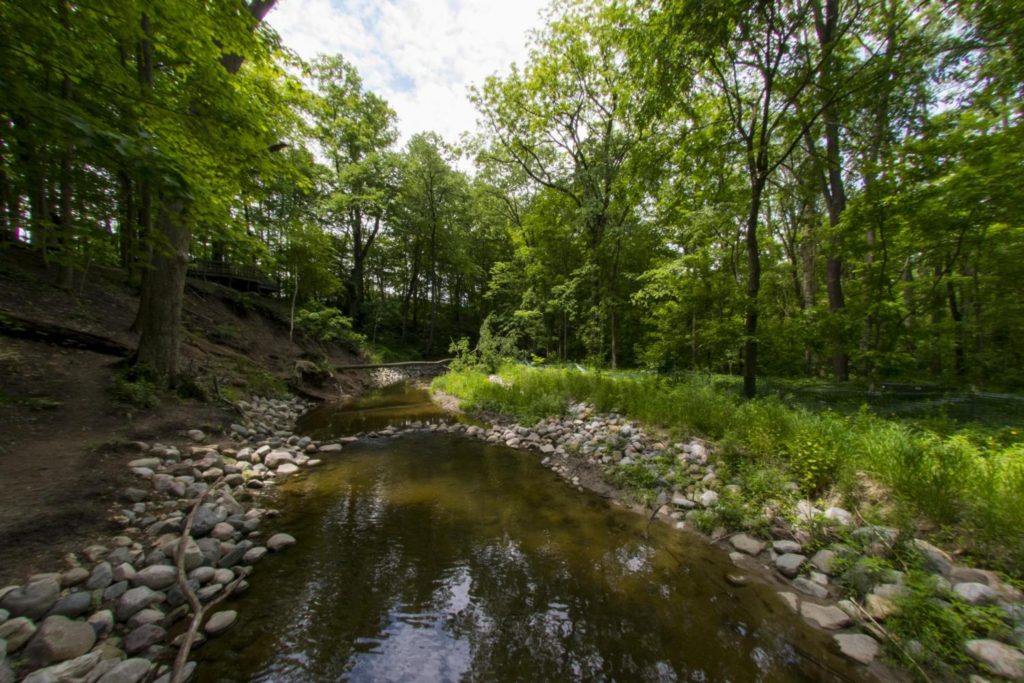 Carmel
Carmel has a mixture of both outdoor and indoor activities that are safe and fun for the whole family.
Outside, families can take in some fresh air on the paved, 20-mile Monon Trail. "It goes north up to Westfield, it goes down through Carmel and then it does connect to Indianapolis if people want to make a long ride of it," says Katie Utken, digital marketing manager for Visit Hamilton County Indiana. "It's completely paved so it's great for strollers, bicycles, walkers and joggers, and the great thing is that they are some scenic nature areas but then it also goes right through our downtown in Carmel."
In addition, the city has dozens of well-maintained city parks and 600 miles of trails. While there are many great parks, Utken recommends families stop by Coxhall Gardens because of all it has to offer. At the park, visitors can find recreation lakes, paved sidewalks and trails, a children's play area, lots of nature elements and two 90-foot bell towers that chime every hour.
When it's time to head indoors, you can head to the Museum of Miniature Houses & Other Collections. The small museum is already contactless, as visitors can't touch the displays. "If you've ever seen one of those miniature houses, where the chairs are teeny tiny… this little museum is filled with glass panels where you can look into all of these different miniature displays," says Utken. While looking into these displays, families can take part in the museum's scavenger hunt, which encourages visitors to scour the displays for specific tiny items.
Another indoor option that's ideal for kids is Sprouts Cooking School, Indiana's only cooking school for kids. "During quarantine they've been awesome, offering virtual classes online and I know they're excited to get back in the kitchen," says Utken. She adds that they offer classes throughout the summer that visiting families can book before making their trip.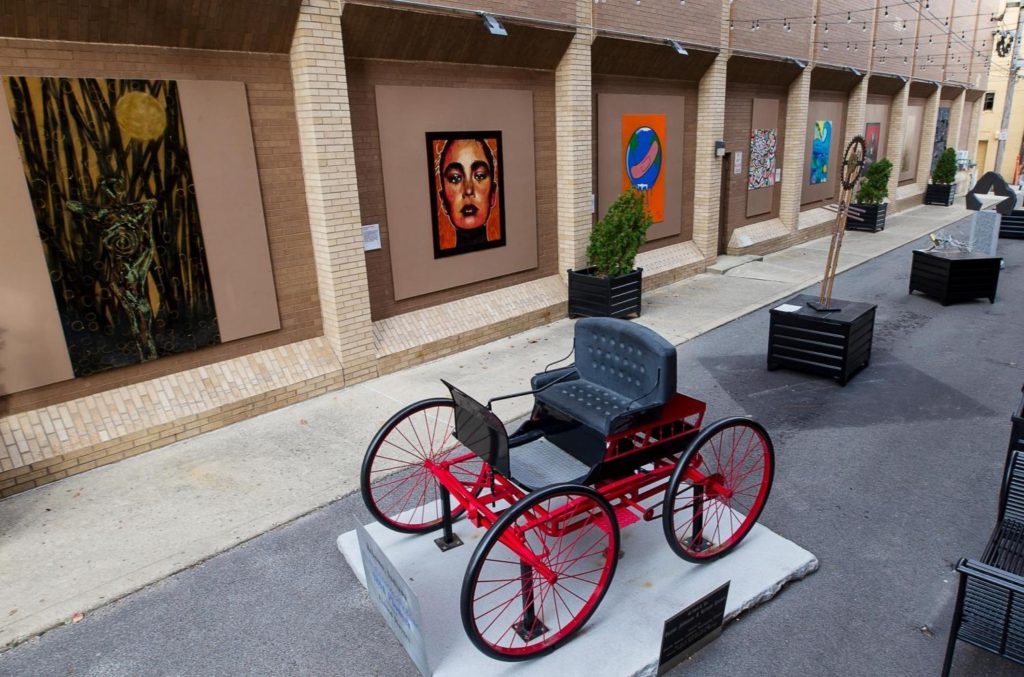 Kokomo
In Kokomo, visitors can explore both history and art in safe, socially distant ways.
The city's star attraction, the Kokomo Opalescent Glass Co., is open again for tours at the end of June. The company is America's oldest glass company and makes special pieces for installations around the work, from Disney World to the Naval Academy to the Vatican. The tour shows visitors the behind the scenes work.
"They have artists there that do demonstrations of blowing glass, they give demonstrations of their restoration work, it's pretty extensive all that they do even though they're quite a small business in comparison to a lot of manufacturers," says Sherry Matlock, manager of the Greater Kokomo Convention & Visitors Bureau.
The company is limiting the size of the touring groups to allow for social distancing.
For more art, families can explore Kokomo's downtown art scene. Special attractions include All Alleys Lead to Art, which are specific downtown alleys that have been turned into outdoor art galleries; self-guide mural tours; the Kokomo Sculpture Walk, which has nine large-scale sculptures; DIY art studios like Fired Arts Studio; and downtown art galleries. Matlock says that maps of the Sculpture Walk are available for free on the Visit Kokomo app.
For some history, Matlock recommends visiting the Seiberling Mansion, which is also the home of the Howard County Museum. Built in the late 1800s, the three-story home has been restored, with many rooms staged to look as they would have when the Seiberling family lived there.
But for something off the beaten path, Matlock says families should go see Old Ben in Highland Park.
"Old Ben is a stuffed steer. He was alive at one time, and he is the world's largest steer," says Matlock. The steer was 6.5 feet tall, 16.25 feet long and weighed more than 4,500 pounds. Born and raised in the Kokomo area, the original owner refused to sell him. He's now a permanent resident of the region in the park.
[booking_product_helper shortname="midwestern traveler"]