By Laura Geraci
Walk down the street and what are the majority of the people that you pass by doing? Talking on their cell phones? Texting? Taking a selfie? We're all guilty of it. It's so easy to get lost in the Internet that we sometimes forget about the actual people and the world around us. If you seem to have this problem, it might be time to grab a friend or family member and take a trip free of digital nonsense. Check out these awesome getaways that force you to remember how to appreciate the beautiful and full-of-adventure world that surrounds us, off screen.
1. Pocahontas County, W.Va.
Known as the Birthplace of Rivers, Pocahontas County is home to the headwaters of eight different rivers throughout the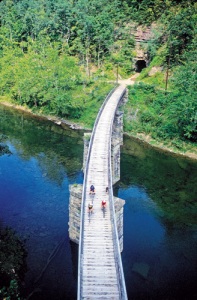 mountains, creating magnificent waterfalls, beautiful streams and plenty of aquatic wildlife. With five state parks, two state forests and 500 miles of biking trails, there are more than enough adventurous, outdoor activities for one to handle. Oh, did I mention that all wireless technology is banned throughout the county? The 13,000-square-mile area is known as The Quiet Zone and although it was created to protect nearby radio telescopes, it has captured the attention of travelers looking to digitally detox. So grab your gym shoes, forget your cell phone and come enjoy the beauty of nature, tech free. And don't forget to bring a map.
2. Mackinac Island, Mich.
The ban on automobiles throughout Mackinac Island not only results in cleaner air for everyone but also creates a peaceful ambiance for all to enjoy. Without the hustle and bustle of traffic or noisy honking, natives and vacationers are able to appreciate the breathtaking coastal views annoyance-free. Whether making your way around on foot, bike or horse, your days on the island are sure to be filled with adventure. Explore one of America's oldest established national parks, participate in the variety of water activities offered or simply kick back at one of the local, friendly pubs that are sure to keep your mind off of the tech-obsessed outside world.
3. Mad River Mountain, Ohio
What's the next best way to indulge in a tech-free getaway if the law doesn't force you to? Let nature take over. Take a trip to Mad River Mountain where the skiing is superb and it's too cold to even think about your technology addiction, much less pull your hands out of your gloves to snap a selfie. Mad River is Ohio's most expansive skiable terrain and home to the largest snowmaking system in the state. With 144 skiable acres, 20 trails, 12 lifts, four terrain parks and 133 snowmaking fans that can cover the entire mountain in 72 hours, every day is snow day at Mad River. Whether you're an expert looking for a black diamond challenge or a beginner wanting to inch down the bunny hills, you're sure to enjoy Ohio's largest winter resort. Along with skiing and snowboarding, Mad River also offers and encourages guests to tube down one of the 10 1,000-foot lanes at the Avalanche Tubing Park.
4. New River Gorge, W.Va.
What's another way to let nature hinder your abilities to talk and tweet? Take a weekend trip to the New River Gorge in West Virginia and embark on a journey of a lifetime. Only a crazy person would bring his or her electronics on the river and there's no going to the gorge without white water rafting. New River Gorge consists of two distinctive rafting sections—one filled with high adventure and huge waves and the other a leisurely float trip—ensuring that there are suitable trips for all areas of experience, from beginner to expert. Rivermen at Adventures on the Gorge offers both one day and multi-day rafting trips. If you're looking for a real outdoor adventure, and want to actually "rough it'," make sure to sign up for a multi-day trip, which includes dining alongside the river and camping on a beach underneath the stars. Other outdoors activities that Rivermen's offers are climbing and repelling, kayaking, fishing, zip lining, mountain biking and paintballing. If the gorge can't stop you from escaping the digital world, there's probably not anything that can.