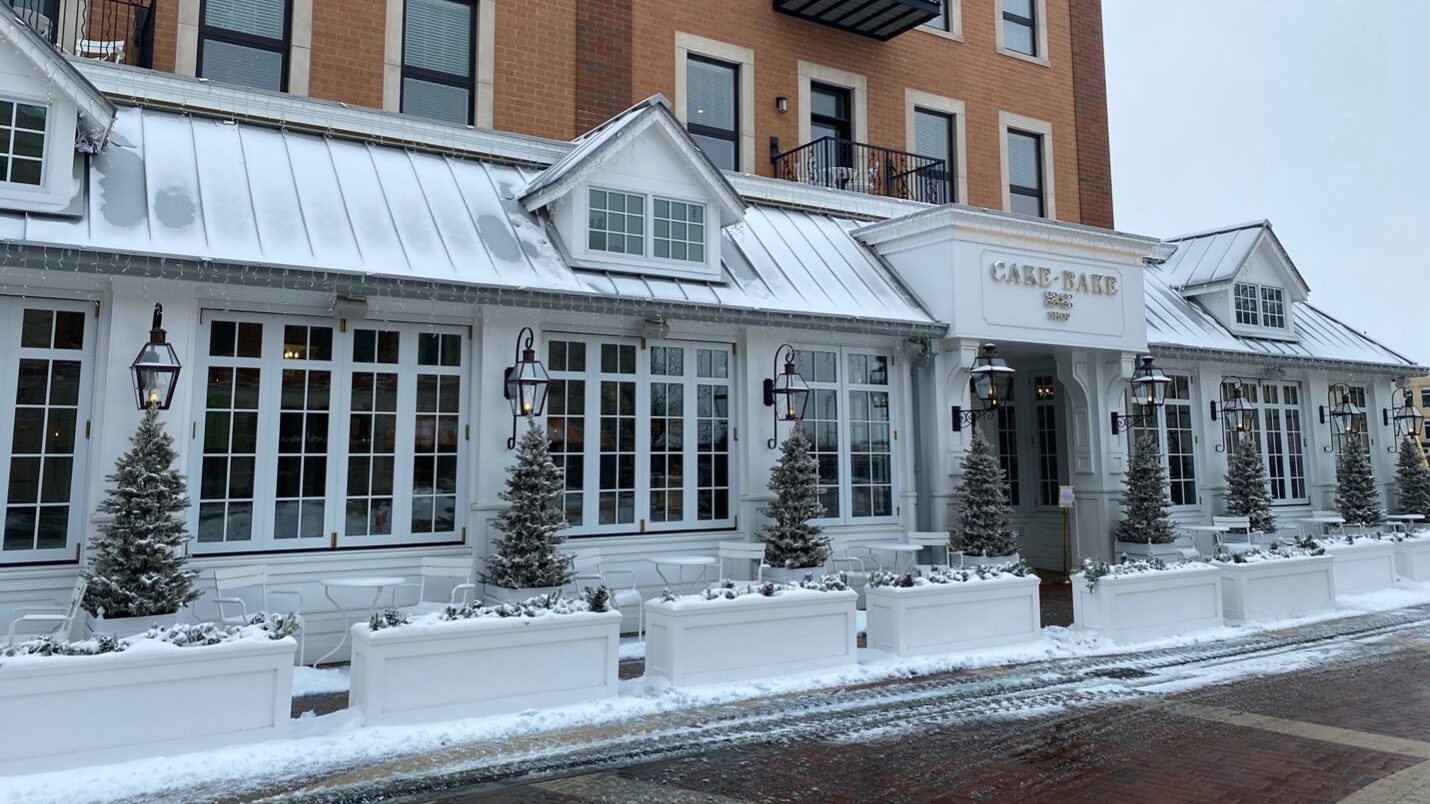 The Cake Bake Shop in Indianapolis offers sweets, glitter and glamour for a perfect afternoon out 
By Olive Collins Niesz 
After two years of being stuck inside and ordering delivery take out as a "treat," the Cake Bake Shop in Northern Indianapolis might be the welcome burst of happiness and glamor you need to break up the monotony of pandemic life. With tables spread out and employees masked and gloved up, it is clear that the health and safety of guests remain a priority. 
Stepping into the Caramel City Center Cake Bake Shop is like stepping into Narnia (sans the wardrobe). Surrounded by a variety of boutiques and specialty shops, the Cake Bake Shop stands out, with its exterior reminiscent of a dollhouse and interior dripping with white roses, strings of twinkling lights and faux crystal chandeliers.  
The only thing more extravagant than the décor are the cakes themselves. Choose from giant slabs of Pixie Fetti Cake (almond confetti cake with buttercream crusted in edible sequins), Southern Style Caramel Cake (six layers of buttermilk cake, topped by brown sugar caramel cream) or Oprah's "O" List Mint Chocolate Chip Cake (French chocolate cake, mint buttercream and the blessing of Queen Oprah herself). The menu includes half a dozen more cake options, along with pies, cookies, cheesecakes and a full lunch menu. 
One of the unique offerings of the Cake Bake Shop is its Afternoon Tea; typically booked as a group experience, guests may choose to partake in afternoon tea with champagne, tea without champagne or tea for children, which includes a choice of hot chocolate or lemonade. All tea times include your choice of hot tea; scones served aside jams, butters and clotted creams; an assortment of finger sandwiches (chicken salad, egg salad and cucumber with goat cheese); and an array of desserts ranging from macaroons to mini cheesecakes to lemon bars. The best part? Every single item is decadently garnished with edible glitter.
Ringing up at $55 per person for the standard afternoon tea, this experience may be best reserved for a special event—a birthday, a shower, a celebration of any sort—but it is an irresistible temptation for those with the sweetest of sweet tooths. Be forewarned; the savory finger sandwiches, though delicious, don't do much to balance out the surplus of sugary treats.
An afternoon at this award-winning restaurant and dessertery is a magical experience, which is exactly what owner and creator, Gwendolyn Rogers set out to do when she first opened the original Cake Bake Shop in Broad Ripple Village in 2014.  
"I think the Cake Bake Shop resonates with our guests because it is an escape from reality. You walk into a fantasy world of all five senses," Rogers says. "You see the beautiful surroundings, you hear the elegant music, you smell the delicious cakes and savory and as you take a bite, you taste and feel the incredible food we make every day. It truly makes everyone so happy and that is what makes me happy."
The Carmel City Center Cake Bake is open from 10 am -10 pm daily, with reservations recommended.